Uniform
The school uniform should be worn correctly at all times. This means that students may not mix and match items of sports uniform and the regular uniform. Full school uniform is always to be worn to and from school, even if travelling by car or bus. The uniform needs to be worn correctly both at school and in the general public.
The following changes to uniform items are compulsory for 2022.
For Term 1 2022
Sports shorts with embroidered school arch
Dresses with embroidered school logo
Reversible school/house hats
School bathers for ALL Secondary students (ready for the Secondary Swimming Carnival in Feb 2022)
For Term 2 2022
Jumpers with embroidered school logo (From Term 2)
Total Uniforms can embroider any current uniform items at the store on Jensen Street, Geraldton. The cost will be $6.60 for sport shorts and $8.80 for dresses and jumpers.
Uniform Shop
Opening Hours - The uniform shop is open during the school terms at the following times:
Tuesday from 1:00pm - 4:00pm
Thursday from 8:00am - 11:00am
* Alternatively, an order form (see above) may be filled out and left at the school office.
* School hats and ties can be purchased from the school office.
Note: The Uniform Shop is not open during the school holidays.
Last day of trade this Thursday 9 December 8.00am – 11.00 am.
---

Uniform Week
Monday 24 January 2022 to Friday 28 January 2022 (Please note Wednesday 26 is a public holiday and we will be closed.)
Appointments for kindy students entering into Pre-Primary and for all new students – 8.30 am to 12 noon
Existing families – 1.00pm – 4.00pm.
Standard Uniforms
Boys - Summer
White school shirt
Navy shorts or long navy pants
Navy socks
Black shoes/navy sandals
Navy school hat
School Belt (optional)
Girls - Summer
Blue dress or
White school overblouse & blue culottes
Black shoes/navy sandals
White school socks
Navy school hat
Boys - Winter
White school shirt
Long navy pants or navy shorts
School tie
Teal sweater
Navy socks
Black shoes
Blazer (compulsory in years 6 - 12)
Navy school hat
Navy school scarf (optional)
School Belt (optional)
Girls - Winter
Tartan skirt/culottes
White school overblouse
School tie
Teal sweater
Navy tights or white school socks
Black shoes
Blazer (compulsory in years 6 – 12)
Navy school hat
Navy school scarf (optional)
Navy trousers/long pants (optional)
Blazers are compulsory for students in years 6 – 12 (winter only). However, students are also required to wear their blazer to all Chapel Services and assemblies during terms 2 and 3.

Specific Ties:
Teal tie - Pre-primary to yr 6
Teal stripe - Years 7 to 8
Blue stripe - Years 9 to 12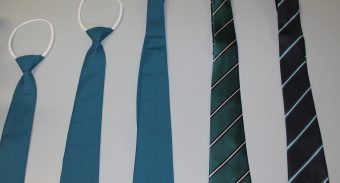 Formal Uniforms
Summer
Girls - Culottes and white school overblouse or blue dress, black shoes and white school socks.
Boys - Navy shorts, white school shirt, black shoes and navy socks.
Winter
Girls –Tartan skirt/culottes, white school overblouse, tie, black shoes and white school
socks (PP–year 6) navy tights (years 7–12) and a blazer (years 6-12)
Boys - Long navy pants, white school shirt, tie, black shoes and navy socks and a blazer (years 6-12)
Junior Kindergarten and Kindergarten Uniforms
(Boys and Girls)
Summer
Early Learning polo shirt
School navy shorts
Navy sandals
School hat
Winter
Early learning polo shirt
School navy tracksuit
Trainers
School socks
Navy sandals
School hat
The Geraldton Grammar Schoolbag is compulsory in kindergarten
Any school item that bears the arch must not have graffiti on it, eg diary, bag, hat. A student can be asked to replace these items if such damage occurs.

Students should show pride in their uniform and dress as a mark of self-respect.
We particularly ask the students to remember that the community judges the whole school by how individuals from the school behave, therefore they should take care to dress and act appropriately.
It is the responsibility of each student to clearly mark each article of clothing and all other possessions.
Jewellery is to be limited to a watch and one pair of matching small plain stud earrings or sleepers in school colours of white, blue, teal and black, silver or gold. Earrings to be worn in the lowest hole in the ear lobes only. Transparent plastic earrings/nose studs are not permitted. Inappropriate jewellery will be confiscated and may be collected at the end of the school term. A discrete silver or gold religious medallion may also be worn. Only badges supplied by Geraldton Grammar School may be worn.
Hair, if long enough to be tied up, is to be restrained by elastic bands or by hair ribbons, hair clips or scrunchies in the school colours of white, blue or teal only. Hairbands are to be royal or navy blue. The general effect should be one of neatness and cleanliness. Hairstyles should not contain undercuts or other excessive changes in length, or unnatural colours. The use of a blade lower than "2" is not permitted. All haircuts must be blended and uniform in appearance. The school reserves the right to determine the acceptability or otherwise of students' hairstyles.
Male students are to be clean-shaven.
No makeup or nail polish is to be worn with the school uniform.
Hemlines on girls' summer dresses and winter skirts should be at a respectable length, on or near the knee.
School shoes - Black leather shoes must be polished and in good condition. Navy sandals are also an option in the summer months. Sports shoes must be proper trainers that protect the feet for physical pursuits.
A school hat must be worn at all times in the sun and kept in good condition.